On August 14, 15 and 16 the Suriname week was organized by Stijn Janssen and Sam Kruiner of Mind Strategy Consultants at the premises of the CBCS in Willemstad as a follow-up event of a successful trade mission of a Curacao delegation to Suriname back in November 2022. Main goal of the event was to investigate how Curacao could be of assistance to finance the foreseen economic growth of Suriname, not only in the offshore oil market but also in the area of carbon credits. During the event, an MOI was signed between the Dutch Caribbean Securities Exchange and the Suriname Stock Exchange. It was agreed to work closely together to further investigate a partnership between both exchanges resulting in cross listings leading to better liquidity and better international financial markets access.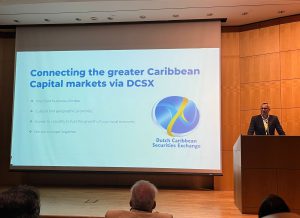 Mr. Dirk-Jan de Graaff, CEO DCSX addressing the audience on "connecting the Caribbean"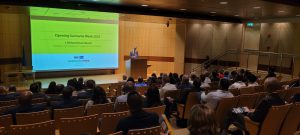 Mr. Richard Dornbos, President of the Central Bank of Curacao and Sint Maarten in his opening speech.